Seen & Felt
A Hand-Bound Publication
Seen & Felt is a book about objects and people, and the stories that live in the connection between the two. Inside is a collection of stories and memories about 19 precious objects shared with me anonymously.
Read the stories
here.
Advisor: Jayme Yen
Fall 2017
THE PROJECT

The prompt was to design and hand-bind a publication with a topic of our choice.
I cycled through many ideas, each having to do with something precious to me and wanting to share that with the world. I realized this idea of preciousness and vulnerability could be expanded beyond myself and my own life. I settled upon the common medium of objects and sought to create a collection of humanity; celebrating honesty, reflection, and the innate drive to hold on to what is important to us.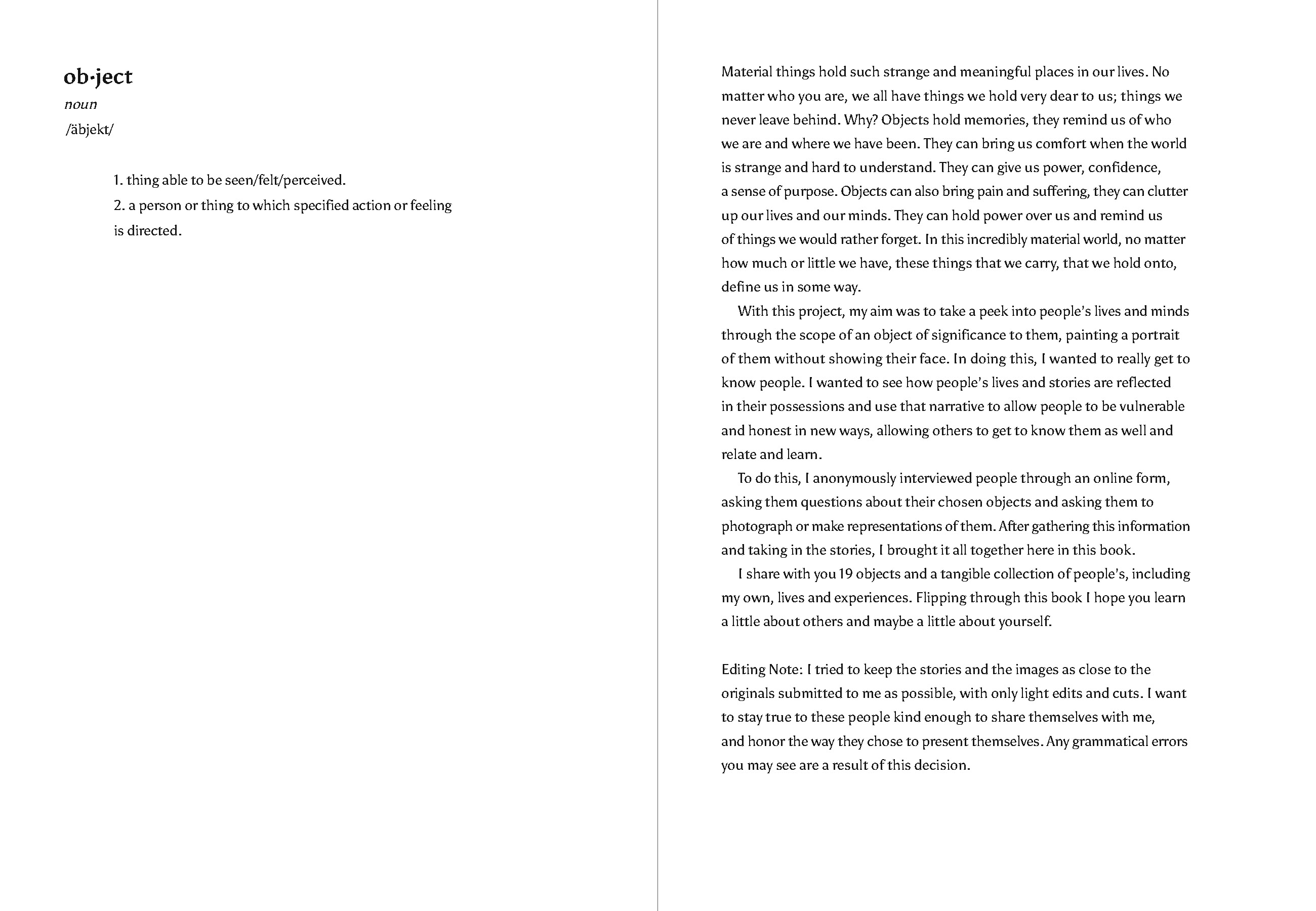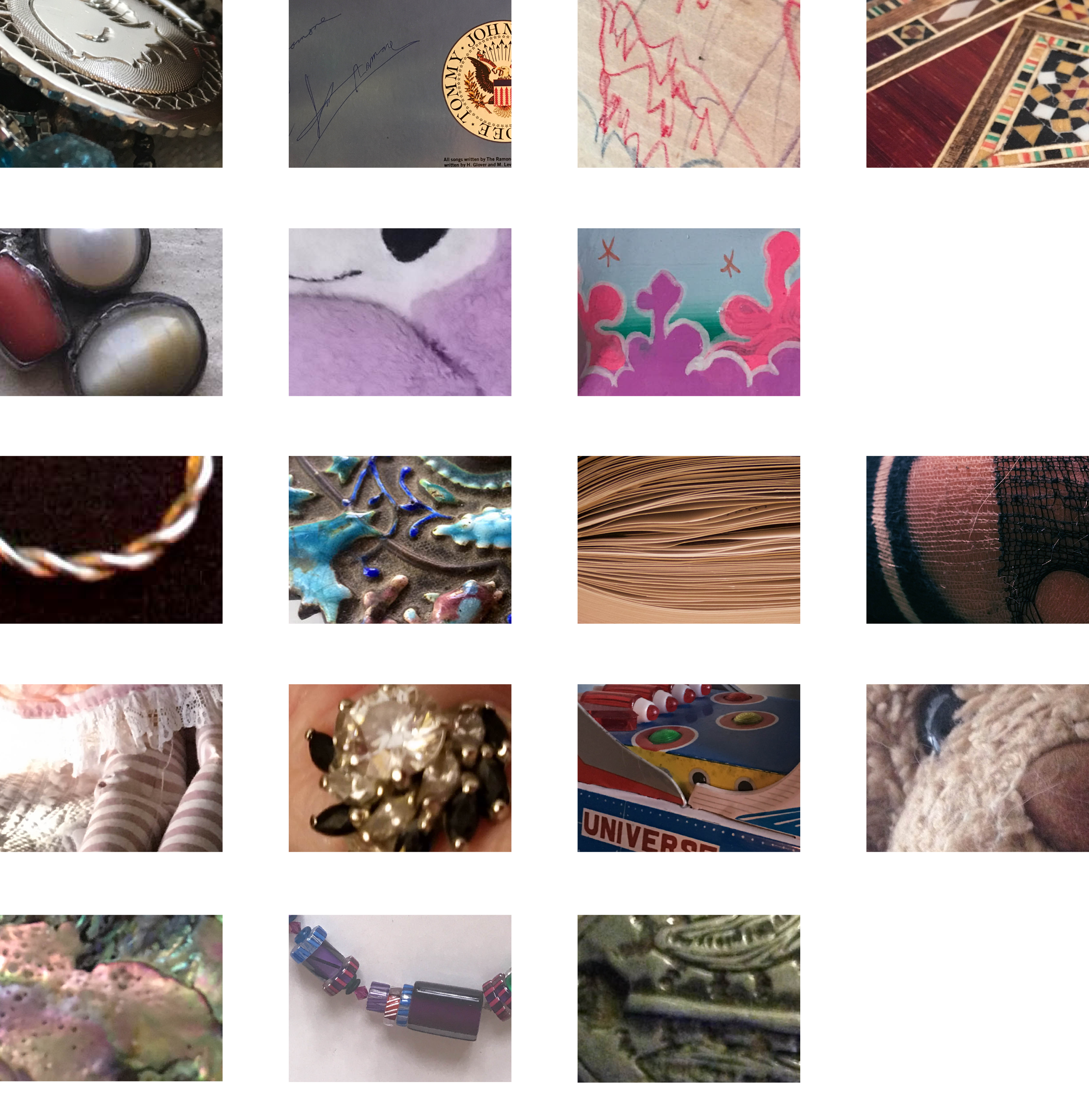 THE BOOK
This publication is meant to feel warm, precious, and make the reader feel close to the objects and the people within. Materials were a key part of this.
The dark blue cloth hard cover gives the book weight and a feeling that the contents are special.
The variation in paper, from smooth and bright to soft and worn mimics the experience of seeing something for the first time and then peering closer, learning about it, and finally knowing and connecting to it. The smaller inset pages with the stories play into that idea as well, inviting viewers to take a peek into the life of the object.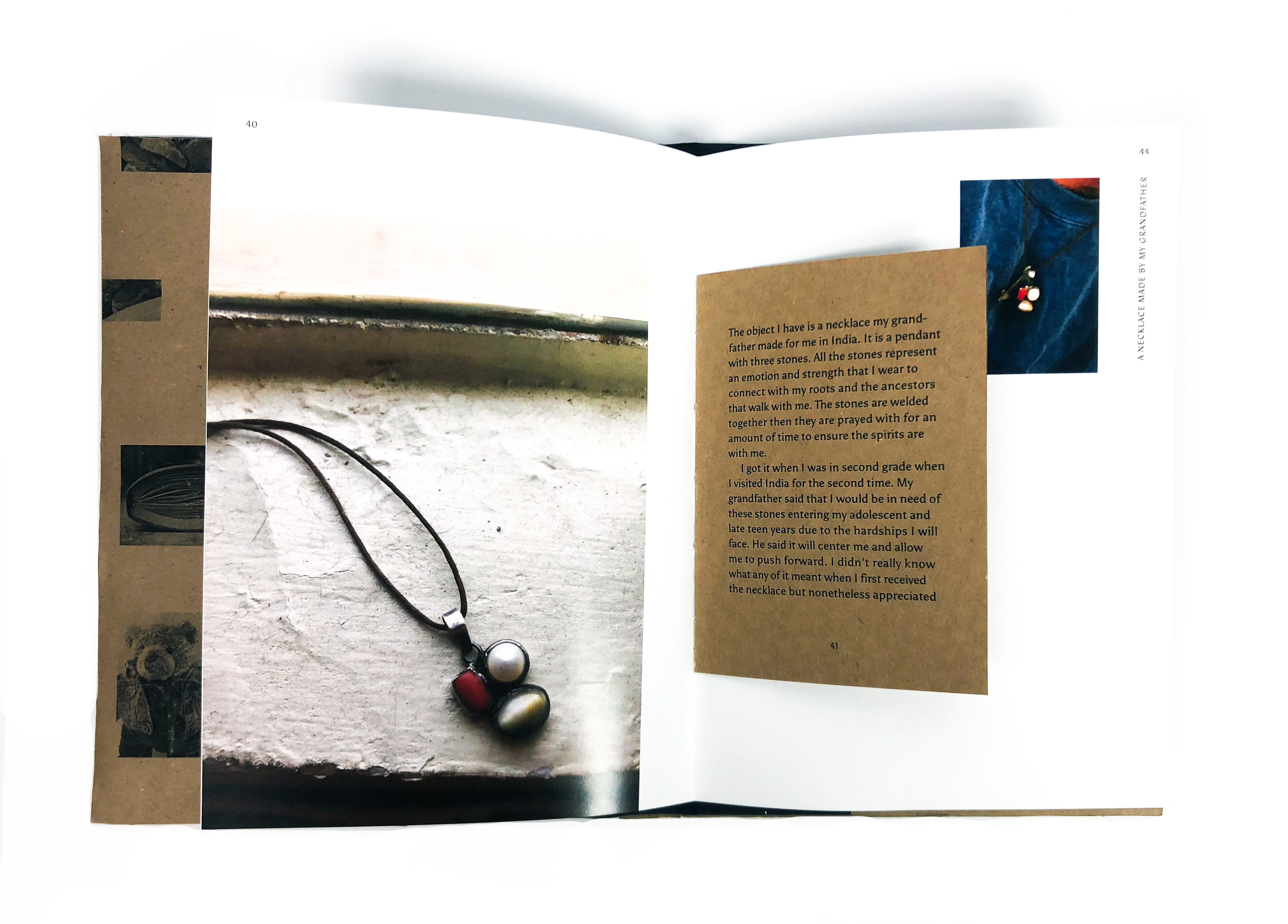 A STORY



Churchkey is another word for a bottle opener.

This was a gift to me from some friends who threw me an impromptu birthday party.

I was on the road at the time and not expecting much in the way of a birthday celebration.

My friends showed up at the venue I was working with an awesome cake and some trinkets that they said reminded them of me.

I was really touched and even tho most bottles are twist offs (at least the kind of beer I drink) I got everybody to open their bottle with this churchkey. I thought of that as charging its Karmic battery.

That's been over ten years and hundreds of bottles have been opened with it since then.

Whenever I'm with friends and we need a churchkey I'll take this out charge the battery some more.

This churchkey has been used in Toasts to old friends, new friends, happy couples, the newly retired, and to say goodbye to people who had crossed over.

It's as much a mojo bag as a bottle opener. There's power in it and more than a little bit of magic.

It marks points in my life. Being with the people that matter to me. The events that mattered.

Everybody's life is a story this churchkey connects my story to the stories of the people who matter to me